Sam Wheeler
2006 LOP Grand Marshal
Sam Wheeler is one of the premier motorcycle streamliner builders in the world. He is planning to set a world record this summer at over 400 MPH. Sam talks about the changes he is making to his streamliner to reach these speeds on the salt flats of Bonneville. This is the first in a series of films on Sam's quest. Sam has backing from Parts Unlimited, Vance & Hines and others in this effort. Sam and his streamliner were also present at our 2009 LOP Rallye (see below).
Should be watched in 1080P and full screen.

---
Sam Wheeler's Norton powered streamliner at the 2009 LOP Rallye.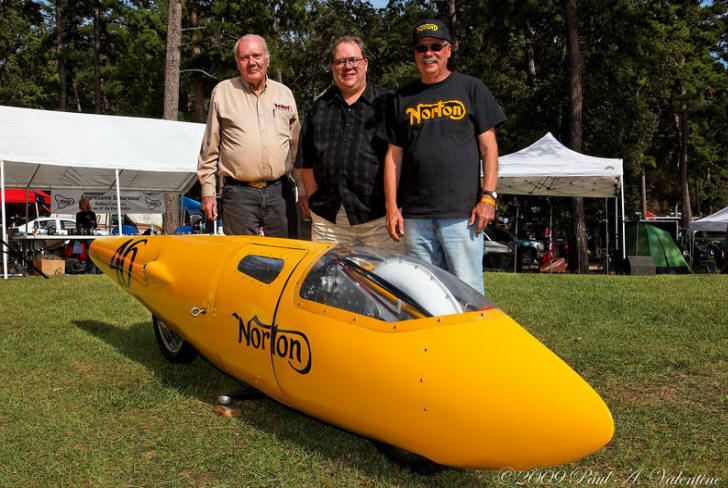 From left to right: Ed Mabry, David Edwards and Sam Wheeler.
Sam built his Norton streamliner in 1969 out of an old aircraft fuel drop tank. The streamliner is powered by a single 750cc Commando engine. Sam took his machine to Bonneville in 1970 and set the record at 208mph on regular pump gas. This was the fastest single engine Norton in motorcycling history. The streamliner was restored by Keith Martin and mechanics at Big D Cycle. Immediately following the rallye it was shipped to the British National Motorcycle Museum in Birmingham, England.