Our September Club Meeting was Sunday, 23 September
at the residence of Captain Commando, aka Phil Dansby.
Our September meeting is always one of our best attended. This meeting was no exception and perhaps the best attended so far this year. With the outstanding weather all but a very few rode to the meeting.

This was our last meeting prior to our annual Lake O' the Pines Rallye. It was also the last chance to renew membership to remain as an active member. Most members came early to enjoy the camaraderie and look over the many different bikes ridden.

Phil provided refreshments, soft drinks and six foot sub sandwiches. Many brought their own liquid refreshments, mostly Shiner and Miller. From the looks of the overflowing recycle bin there was a lot of that consumed. Many thanks to Phil for another great meeting.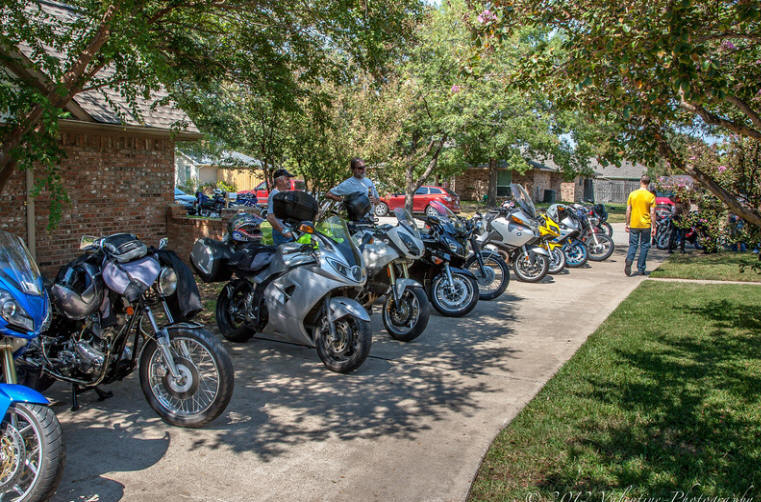 Chris Parry called the meeting to order at 2pm. The first order of business was the upcoming Lake O' the Pines Rallye. Chris asked for a volunteer to take the club's trailer to LOP. The gas would be paid for by the club. Dennis Tackett volunteered when Clay Walley agreed to take his hot-rod Triumph T140 to the rallye. Chris solicited members to help out during the rallye. There is a lot of work that needs to be done during the rallye and volunteers are much needed and appreciated. Chris commended Mike Brown for his efforts in collecting door prizes for the awards ceremony.

The club is one of the sponsors for Ryan Ambrose's vintage racing. Ryan just clinched the AHRMA Class C Championship and is going to Barber Motorsports Park next week during their Vintage Festival presented by Triumph to clinch the CMRA Clubman Championship. Dennis passed a hat to help out with Ryan's expenses. The club also donated its half of the 50/50 drawing to Ryan.

Richard Asprey's guest, Bradley "Chubs" Figart won the 50/50 drawing. Although the meeting was short most stayed around to socialize and tell stories.
Click here for more of Paul Valentine's photos taken at the meeting.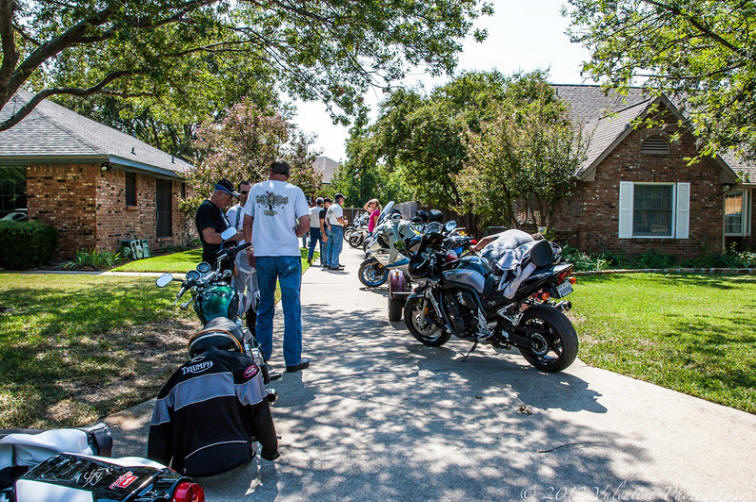 See you at LOP. Our next meeting will be at the "Little House." Click here for more details. The November meeting will be at The Old Bike Shop on December 2nd to avoid the Thanksgiving weekend.
---
Copyright © 2000 NTNOA All rights reserved.
Revised: January 05, 2018 .