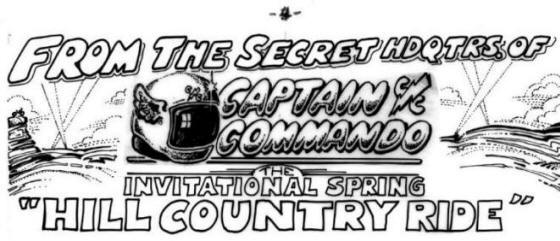 April 21-23, Friday thru Sunday, 2006
Once again it was time for another Invitational Spring Hill Country Ride especially since Last year's event was such a success. It had been over 10 years since the one before that.

Rooms were booked at the "River Inn Resort" in Hunt, Texas for April 21st & 22nd. The event included rides through the Texas Hill Country on Friday and Saturday. The ride on Saturday to the Lone Star Motorcycle Museum included nine of our "Vintage Motorcycles." The Museum which is about 30 miles from the River Inn Resort specializes in classic Brit Bikes. Alan Johncock, the owner and curator was there to meet us and even stopped what he was doing on Friday to fix Capt. Commando's broken float bowl banjo on his Norton's right Amal. Extremely lucky for the Captain, Alan had one in stock.

The weather for the three day event was just about perfect with cool and overcast skies in the morning, warming with clear skies as the day progressed. Thursday's weather however was a different story with severe thunderstorms with hail in the mid to north Texas area just about all day and night.

The members present this year were Phil Dansby, Jim French, Bob Hagemann, Marq Jones, Eddie Poteet, Mike Poteet, Dennis Tackett, George Tuttle, Mike Vance and Clay Walley.

More information and pictures to follow.

---
Pictures of this year's event courtesy of Mike Vance and Mike Poteet.
Click on image to enlarge
.


"It doesn't get any better than this", Phil was right. We had just finished eating steaks that we had grilled for dinner after our first day of riding antique bikes in Hill Country.

This being my first trip to Hill Country, I could see why this is a "must do" motorcycle experience, the fact that we all had antique bikes made it even better! We all arrived at the River Inn resort by mid-day on Friday, we unloaded the motorcycles put our stuff away, and took off on the bikes for a short ride. The weather was perfect, the roads were great, and the scenery was spectacular. As I soon found out the roads in hill country are perfect for old bikes. The roads were in great shape, smooth, well marked so you couldn't get lost, and had little local traffic allowing you to set your own pace. I was amazed at how many rivers and streams we crossed on our ride, some of the roads followed the rivers under a canopy of trees. Saturday was a repeat of Friday but even better with longer rides and more beautiful country. Each day the ride was planned to include R&R stops along the way for gas, beer, food, and just to relax. There was no real time table or agenda while we were in hill country, but to just to have fun and enjoy the company of other NTNOA members. Enough said!

Thanks Phil for putting together an enjoyable vintage motorcycle ride. I won't miss it again!

Mike Vance
---
After the ride on Friday.

---
At the Lone Star Motorcycle Museum on Saturday.



---
The ride on Saturday after visiting the Museum.



---
The River Inn Resort.

---
Copyright © 2000 NTNOA All rights reserved.
Revised: January 29, 2008.