Our November 2012 club meeting was at The Old Bike Shop.
It was on December 2nd so as not to conflict with Thanksgiving Weekend.
Click here for Paul Valentine's photos taken at the meeting.
The Old Bike Shop looked much different than it did during our last meeting there. Almost the entire museum was gone. The shop floor was redone with a nice epoxy like covering. The room where the museum was is now a great place for meetings and gatherings.

With temperatures in the lower eighties the weather was perfect for riding to the meeting and most did. This was one of our best attended meetings ever perhaps because of the weather and that The Old Bike Shop is centrally located in the DFW Metroplex.

Chris Parry started the meeting at 2PM. The first order of business was to pay tribute to Joe Edwards who passed away eight days prior on Saturday, Nov. 24th. Phil Dansby gave a short bio of Joe's involvement with the club and his passion for Norton motorcycles. More about Joe can be seen by clicking here. He will be missed.

Continuing a sad theme, Chris spoke about Michael Ber, a long time stalwart of the BMOA and also a member of the NTNOA. Mike passed in October. Mike Norton and Dicky Hunter gave updates on Norm Blumenberg's and J.J. Dobbs' condition. Norm hit a deer while riding around Lake O' the Pines during the rallye. He is still recovering at Good Shepherd Medical Center in Longview. With time and therapy Norm is expected to make a full recovery. Amanda, his daughter has been overseeing his recovery from the outset. J.J. broke his back and both wrists when a truck turned right in front of him while riding his Commando to the rallye. The driver of the truck didn't have a license or insurance. J.J. is recovering at Baylor Dallas.

As is required in the Club by-laws, the November meeting proceeded to voting on the following Club Officers: Treasurer, Vice-President and President. The current members, Bruce Jones, Randy Bauer and Chris Parry were nominated, seconded and voted on a response of Ayes to continue in these respective roles in 2013. Chris advised that this would his final year as President and then went on to talk about the potential futures of the Club. The Club membership is thriving, and besides organizing and attending Bike shows and the like - we have a very active social calendar. But it should be realized that as we all move on, the future Officers and the Membership face the reality that the younger members and potential members have a different experience of initiation into biking. They grew up, not with Nortons and Triumphs but with the Big Four.
Founding Member Phil Dansby pointed out, and Chris heartily agreed, that it is written as part of the By-laws (and it's worthwhile stating here), that the objective of NTNOA is "to promote and encourage the preservation and use of Norton and other classic European motorcycles." Chris stated that his policy has been and will be to maintain that status quo in the Club activities. However, in order to keep the club relevant (and thriving), the Club and future Club Officers need to appreciate that many today want a vintage motorcycle they had or lusted over when they were young and that many of those were built in Japan. The club must take that into consideration and encourage their membership into the club.

In conclusion, Dennis Tackett introduced Ryan Ambrose and emphasized that Ryan's racing expenses are covered by his sponsors and that the NTNOA has been a significant contributor in the past. Ryan recapped this year's racing successes. He was awarded seven AMA vintage championships including the Grand National Championship at Mid-Ohio and three AHRMA championships. Next year Ryan will compete riding a 2012 Triumph Daytona 675. He hopes to collect enough points to qualify for AMA Pro Races in the AMA Pro Supersport series. Ryan is also looking to compete in the 200 mile Daytona Sportbike race in March of 2014. Ryan mentioned that each race requires about a thousand dollars worth of tires and over a hundred dollars for gas. Dennis passed a hat for donations to support his racing.

The annual Christmas Dinner Party is December 15th at the Spirit Grill in Irving. Details can be found by clicking here.

The 2013 Spring Hill Country Ride is Thursday thru Sunday, April 11–14. It will be essentially a repeat of the 2012 event. Richard Asprey has booked the rooms at the D' Rose Inn and the Frio Springs in Leakey. For those who attended in 2012 your room will be held for the 2013 event until December 15th. Please respond to Richard by email as soon as possible if you want the same room as last year. After that any member can request a room by contacting Richard at rasprey@gmail.com. Check out more details by clicking here.

The inaugural MotoGP races near Austin at the Circuit of the Americas are the following weekend. Many members are planning to attend both events. Richard has coordinated directly with the promoter and obtained a large block of reserved tickets in turn 15 for the three day event. Contact Richard if interested in buying a ticket. Click here to check out the race and track.

Although the meeting was adjourned many remained to enjoy the scenery and camaraderie.
A photo of the museum as it once was.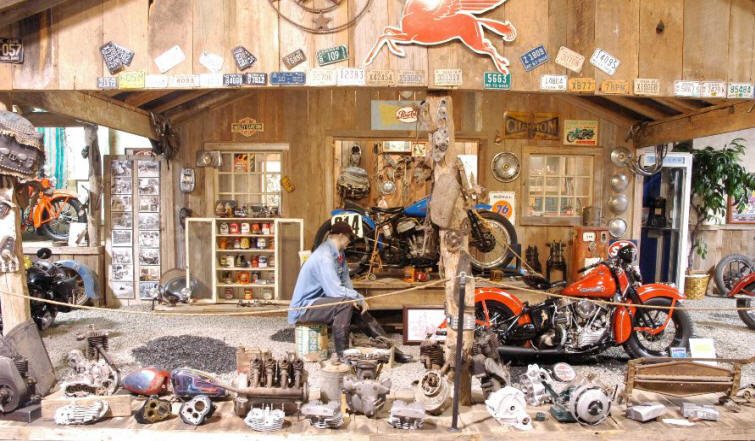 ---
Copyright © 2000 NTNOA All rights reserved.
Revised: January 05, 2018 .